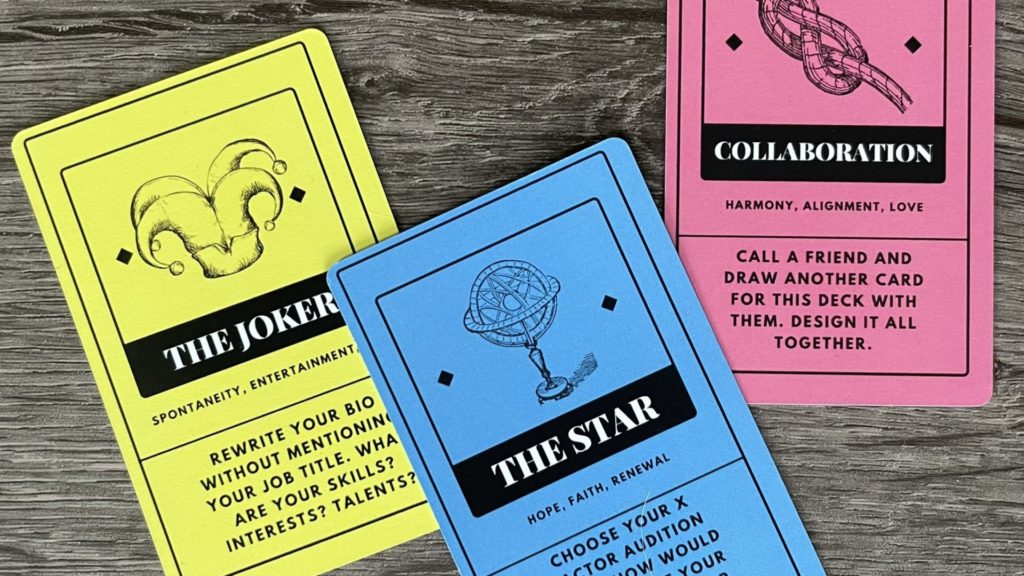 Creativity Tarot is a new way to access your imagination and solve problems. Find clarity, get inspired and have fun.
The Creativity Tarot is now available to order. Grab a pack from our Etsy store before this limited run sells out!
The Creativity Tarot is a pack of cards inspired by Jungian archetypes, branding archetypes, modern life – and of course traditional tarot decks. We hit on the idea after noticing that a lot of people (including us) have been feeling pretty stuck during the long, uncertain pandemic period. It's harder to make decisions, harder to motivate ourselves and harder to trust our instincts when everything we thought we knew has been turned upside down.
But our instincts and intuition are still an excellent, and under-valued, starting point for decision-making. However you choose to use them, these cards supply intriguing answers to open-ended questions.
And if that sounds a bit too 'woo' for you, each card has a specific, enjoyable, quick challenge written on it. So if deep readings aren't for you, just draw a card from the deck and commit to the task. Our easy, uplifting challenges are designed to help you connect with that inner child and get up to some mischief. We promise that after building a blanket fort, making a funny meal or writing a furious argument against the existence of a popular season, you'll feel a whole lot better than you did before.
Creativity Tarot is the first product created by creativity consultancy, Sarah & Leila.